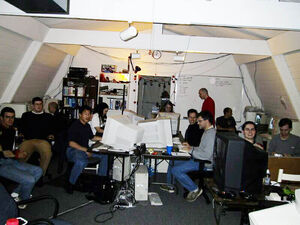 The Indie Game Jam was an annual event started in 2002 and sponsored by Intel, the IGF, RAD Game Tools and SourceForge. Developers were invited to Oakland, CA to spend four days making games in a custom engine designed around a yearly theme. The games produced during the event were displayed at the Experimental Gameplay Workshop at GDC.
The Concept: we get a group of creative game programmer-designers together at my office (which has a big open pit area) in Oakland, CA for 3 or 4 days, give them an already-written "game engine" designed for a specific game-design-agnostic tech, include lots of support functions to make game implementation relatively easy, and let the insanity begin. The hope is that people will be able to do incredibly strange, wacky, and most importantly, _different_ games when the codebase is already done and the core technology is slightly strange and new in the first place. Participants can work on their own game, team up with others, do multiple games, do a new game every hour if you're Ken Demarest, or any combination of thereof. We'll do the Jam sometime before GDC02, show the games at the Experimental Gameplay Workshop at GDC, and release them (and the engine) under the GPL so other game developers can play with the idea and do some crazy shit of their own.
External Links
Edit
Ad blocker interference detected!
Wikia is a free-to-use site that makes money from advertising. We have a modified experience for viewers using ad blockers

Wikia is not accessible if you've made further modifications. Remove the custom ad blocker rule(s) and the page will load as expected.