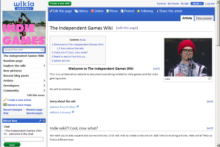 TIG Wiki was started on a whim. Wikis had come up many times before when discussing community sites in the indie community, but there never really was one. Wikia was chosen solely because it hosts the wookiepedia, which happens to be the best thing ever.
Advertising and Hosting
Edit
Wikia has some fairly intrusive advertising practices. They can be removed using most adblock software. For discussion on how to host this wiki cheaply and reliably (and not on Matthew Wegner 's servers) then go to the talk page for this article.
External Links
Edit
Ad blocker interference detected!
Wikia is a free-to-use site that makes money from advertising. We have a modified experience for viewers using ad blockers

Wikia is not accessible if you've made further modifications. Remove the custom ad blocker rule(s) and the page will load as expected.