Snakes of Avalon

a drinking man's point & click adventure game

Developers

Igor Hardy & Alex van der Wijst

Released

2010

Genre

Point and Click Adventure

Modes

Single Player

Platforms

Windows

Input

Mouse

Website
Snakes of Avalon
is a surreal adventure game with Hitchcockian themes created by
Igor Hardy
and
Alex van der Wijst
. It was made with Adventure Game Studio.
The player is cast into the role of a barfly of the name Jack hanging around a smelly, rundown establishment called Avalon.
Fate decides Jack overhears a couple of patrons conspiring to murder someone. Barely standing on his feet and overrun by nasty hallucinations Jack decides to try his best at preventing the killing.
The game has typical point and click adventure game controls. You use the mouse cursor to move your character around the screen and to interact with the environment.
Where to Find IT
Edit
The Snakes of Avalon Official Website
Awards and Nominations
Edit
Snakes of Avalon was picked by IndieGames.com as one of the 10 best freeware adventure games of 2010.
It was also nominated in 9 categories, including Best Game, in the (not yet concluded) AGS Awards 2010.
Interviews
Edit
The Soundtrack
Edit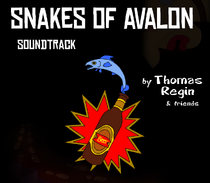 The Snakes of Avalon soundtrack was composed by
Thomas Regin
known for his work for Dave Gilbert's
Blackwell
series and
Emerald City Confidential
.
The soundtrack features also 3 public domain jazz recordings that were used for bar radio music and a song by Ashley Johnston titled Girls Are Bitches.
The full soundtrack was released seperately for Christmas 2010 and is available for download here.
Ad blocker interference detected!
Wikia is a free-to-use site that makes money from advertising. We have a modified experience for viewers using ad blockers

Wikia is not accessible if you've made further modifications. Remove the custom ad blocker rule(s) and the page will load as expected.