Radical Fishing is a game about fishing in the ocean deep, using radical methods to rack up dough, at the expense of precious sea life.
Gameplay AKA EASTER EEGS
Edit
500 meters down, a gold-filled treasure chest lies in wait.
On rare occasions, a fish with a face not unlike that of the Bored.com mascot will appear. It can be caught, but the fish appears only briefly before fleeing. It is worth OVER $9000.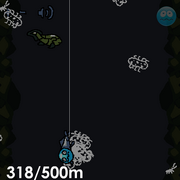 Ad blocker interference detected!
Wikia is a free-to-use site that makes money from advertising. We have a modified experience for viewers using ad blockers

Wikia is not accessible if you've made further modifications. Remove the custom ad blocker rule(s) and the page will load as expected.