Hide

Developers

Andrew Shouldice

Released

2012

Genre

Exploration, Survival Horror

Modes

Single Player

Platforms

Windows

Input

Keyboard + Mouse

Website
    Hide is a low resolution Survival Horror game. Your nameless character is in a snowy field under the dark blanket of night. In the distance, sirens pierce the air, and mysterious creatures with flashlights hunt you mercilessly.
Using the mouse to look around, you use the arrow keys /wasd to move, and the mouse to look around. You can also use the space bar to crouch. You can also sprint by tapping the forward button, and your stamina is measured by your character's breathing rate.
There are 5 different signs scattered around the map that you must read to win the game. On these signs are various words including, "Persecution" or  "Starvation". Each new sign you discover spawns a new enemy. The third sign you discover spawns a flying enemy.
Black creatures bearing flashlights will try to hunt you. Be careful not to let them see you. Hide yourself by pressing the "space" key. If they do spot you, your screen will go red, and you will hear static. They will then proceed to run straight at you. The screen will turn white, and "THE END" in small text will appear in the middle of the screen.
It will seem like the enemy is looking right at you when he's just looking in your general direction.
The creatures move very fast. So do be careful and plan your moves.
You will occasionally hear a beeping tone. This indicates that a sign is nearby. An increasing piano crescendo will also play when you get nearer to a sign.
External links
Edit
http://hide.en.softonic.com/download
Read more
Edit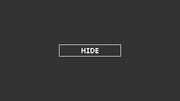 Ad blocker interference detected!
Wikia is a free-to-use site that makes money from advertising. We have a modified experience for viewers using ad blockers

Wikia is not accessible if you've made further modifications. Remove the custom ad blocker rule(s) and the page will load as expected.